Matcha Infused Pavlova with Fresh Fruit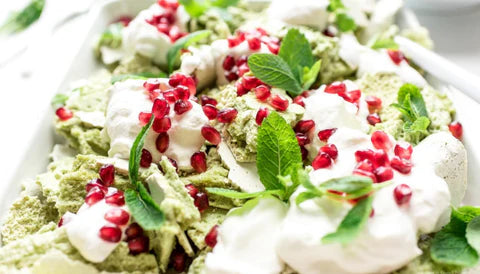 Ingredients
4 egg whites
1 cup sugar
1 tsp cornstarch
1 - 2 tsp matcha powder according to your taste
1/2 tsp fresh lime juice
1 cup whipping cream
2 Tbsp confectioners sugar
Assorted fresh fruit of choice - raspberries, strawberries, kiwi
Directions
. Preheat oven to 225℉
. Whisk egg whites until fluffy
. Whisk in sugar a 1/4 cup at a time
. Whisking until stiff
. Gently whisk in the cornstarch, matcha powder**, and fresh lime juice
. Pipe 6 rounds on a parchment covered cookie sheet
. Gently depress center with the back of a spoon
. Bake for about 20 minutes or until the meringue is set
. Allow to cool
When ready to serve:
. Whisk cream with confectioners sugar until stiff
. Pipe into the pavlova cases
. Top with fruit
Notes:
A Pavlova is a soft meringue
This recipe is Gluten Free
Sometimes the matcha powder is difficult to blend in and there is a danger of over whisking. Mix the powder with 1 Tbsp of water before adding to the meringue mixture. It will blend in much easier.
This recipe was developed for the Cultured Cup by Kyra Effren
Copyright The Cultured Cup