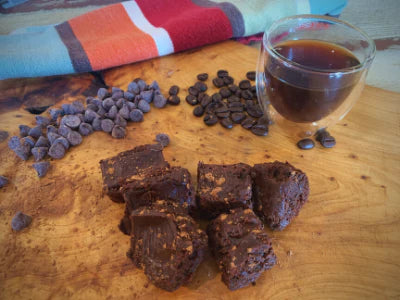 These Chocolate Squares are Rich and Delicious, like a decadent fudge! One pan makes plenty- be sure to cut into small squares as it is VERY rich! Sure to  be a hit at home or your next party!
Bonus

- these treats are gluten free !

Ingredients
1  cup dark chocolate chips or chopped chocolate
1/2 cup soft butter
3/4 cup sugar
Pinch salt
2 Tablespoon STRONG coffee ( try our Italian Roast)
3 eggs
1/2 cup dark cocoa
Directions
Preheat oven to 375F
Melt the chocolate and butter in microwave in a large bowl
Stir in the sugar, salt and coffee
Whisk in the eggs one at a time
Stir in the cocoa
Pour into 7x10 rectangular pan which has been lined with parchment or heavily greased
Bake until a thin crust forms on top
Cool then remove from Pan
Finish with CHOCOLATE COFFEE GLAZE
1 cup chocolate chips
1/4 cup strong coffee
1/4 cup cream
Melt together in microwave or double broiler. Whisk until smooth. Cool then spread on top of cooled pan. Cut into small squares. Enjoy with or without a cup of coffee or espresso!
pairing suggestions: Dallas Bold, Italian Roast, Keemun Single Malt
This recipe was developed for the Cultured Cup by Kyra Effren
Copyright 
 The Cultured Cup