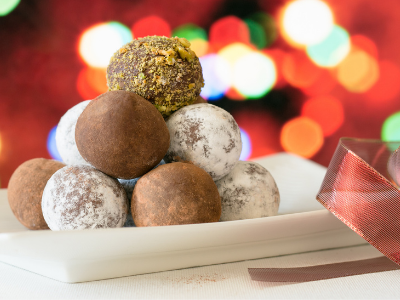 Ingredients
2 cups white chocolate chips
1/4 cup butter
3 tbsp whipping cream
1 tsp matcha (try our Kyoto culinary grade)
2 tsp raspberry jam - strained
Chocolate Coating
8 oz white chocolate
1 tsp coconut
Directions
Melt the white chocolate chips together with the butter and cream in the microwave until melted [about 1 minute]. Stir until smooth.
Divide into 2 batches
Stir matcha powder into 1 batch
Stir jam into second batch
Refrigerate until set – then scoop into small balls and refrigerate
Melt white chocolate with coconut oil
Stir until smooth
Dip truffles into chocolate coating and refrigerate until set.
Note: Be sure to 'identify ' the two different truffles! A little green /red decoration will help
This recipe was developed for the Cultured Cup by Kyra Effren
Copyright 
 The Cultured Cup