What You Can Learn from Holding a Japanese Tea Bowl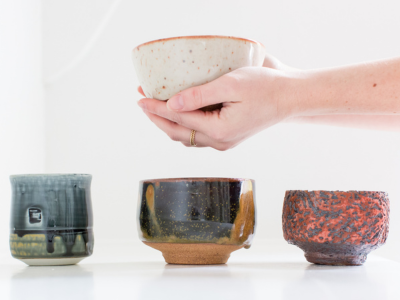 The Cultured Cup hosted a delightful and engaging event called "What You Can Learn by Holding a Tea Bowl." Attendees had the opportunity to enjoy tea while learning about the Japanese philosophy of Wabi Sabi, which values simplicity, humility, and authenticity. The discussion focused on finding beauty and joy in the smaller moments that are often overlooked in our busy lives. The concept of taking a pause and experiencing the present moment resonated with many attendees, thanks to an engaging conversation led by Kyle Stewart.
Kyle shared his experience of holding a 2,000-year-old Japanese tea cup, which had been molded by generations of users and had acquired unique character and texture. This discussion was particularly interesting because it emphasized tea, culture, and history, bringing the community together despite the challenges we face in our lives.
Our conversation about finding ourselves as we age and experience different life events was closely related to Wabi Sabi, which stands in contrast to the fast-paced, consumer-driven society we live in. While Western society encourages us to consume and buy new products, this Japanese philosophy encourages us to repurpose what may be old or broken, and to find beauty in imperfection. Everyone connected with the idea of accepting imperfection and finding our most authentic selves.
Mel Finefrock, who is blind, provided an insightful analogy of Kyle's talk by articulating the experience of holding a cup and exploring it with her hands held meaning for her. She highlighted how the cup's divots, textures, and shape articulated its history and story.
During the event, Kyle highlighted a teacup that had been repaired using metal staples to restore it to a functional state. He explained that the metal staples represented a form of "glue," which one attendee, Amy, equated to love and understanding in restoring cohesion. Amy shared how a loved one in her life had experienced a major medical event that had impacted their personality, and expressed her hope that love and understanding could be the "glue" used to love and support this person as they adapt together.
Overall, the event was a beautiful demonstration of how tea, culture, and philosophy can bring people together, and how the Wabi Sabi philosophy can help us find meaning and beauty in everyday moments. This event was inspired by Kyle's previous Ted Talk at SMU in 2012 which you can watch here. And shop for your own handmade Japanese tea bowl made by Ginny Marsh.